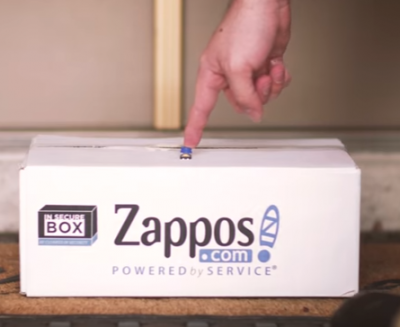 In Secure Box
Zappos has created a delivery box that can't be stolen. When it't delivered it becomes invisible. Very handy technology, what it's an obvious prank!
Published on: april 1 2017, 10:08
Prank from: 2017
April fools day of: Zappos
You order some stuff from Zappos and when you get home someone stole the box. That's never going to happen again with this revolutionary box from Zappos.
Looks really cool, April Fool! :D
More April Fool Pranks
New Smaland
Published on: april 1 2017, 5:00
Prank from: 2017
Ikea Singapore hilariously announced that it would transform its Småland in-store playground into a "press-play-ground," full of sitting pods with tablets, because kids "prefer tablets to physical activity."
Virgin Airlines Dreambird
Published on: november 27 2017, 3:50
Prank from: 2017
Virgin Airlines published a video that has information of a new plane that is going to be used. The dreambird 1417 with the new flapenergy technology.
The Humanless Host
Published on: april 11 2017, 12:20
Prank from: 2017
In 2017 Airbnb introduced The Humanless Host. Everything is getting more and more automised and equipment should be smart.