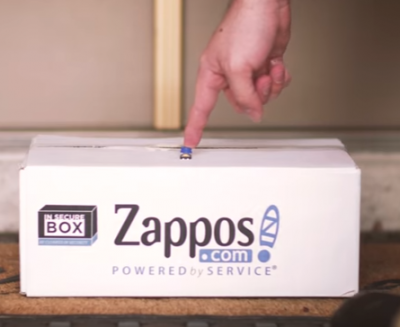 In Secure Box
Zappos has created a delivery box that can't be stolen. When it't delivered it becomes invisible. Very handy technology, what it's an obvious prank!
Published on: april 1 2017, 10:08
Prank from: 2017
April fools day of: Zappos
You order some stuff from Zappos and when you get home someone stole the box. That's never going to happen again with this revolutionary box from Zappos.
Looks really cool, April Fool! :D
More April Fool Pranks
Spaghetti Trees
Published on: maart 28 2017, 3:11
Prank from: 1957
Swiss people had very special trees back in the day. In 1957 the BBC pranked an entire nation by showing the Swiss harvesting spaghetti from trees! April Fool!
Google Copernicus Center is hiring
Published on: maart 29 2017, 11:36
Prank from: 2004
This was Google's April Fools hoax in 2004. They had a a great job offer for engineers to work on the moon. Google Copernicus Center was an April Fools joke.
Left-Handed Wopper
Published on: maart 31 2017, 12:21
Prank from: 1998
One of the most epic hoaxes on April Fools' Day was the introduction of the left-handed wopper. Burger King introduced it to satisfy left-handed eaters! April Fool!