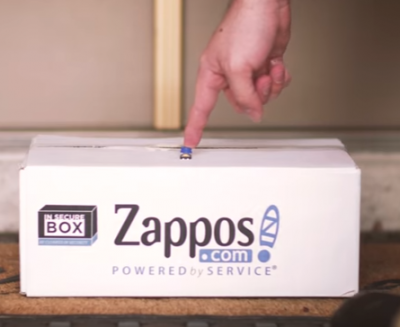 In Secure Box
Zappos has created a delivery box that can't be stolen. When it't delivered it becomes invisible. Very handy technology, what it's an obvious prank!
Published on: april 1 2017, 10:08
Prank from: 2017
April fools day of: Zappos
You order some stuff from Zappos and when you get home someone stole the box. That's never going to happen again with this revolutionary box from Zappos.
Looks really cool, April Fool! :D
More April Fool Pranks
H&M Mark Zuckerberg Clothing Line
Published on: april 1 2020, 3:25
Prank from: 2016
H&M seemed to have a new brand ambassador. With the Mark Zuckerberg clothing line you can stay focused on your career.
Virgin Australia first canine crew
Published on: november 23 2017, 2:28
Prank from: 2017
In this video Virgin Australia introduces their furry flight crew who will make your flight way more relaxed.
Auntie Anne's new Logo
Published on: april 1 2017, 12:41
Prank from: 2017
Auntie anne's has designed a new logo. It is lit. They have replaced the halo over the pretzel with a flower crown.