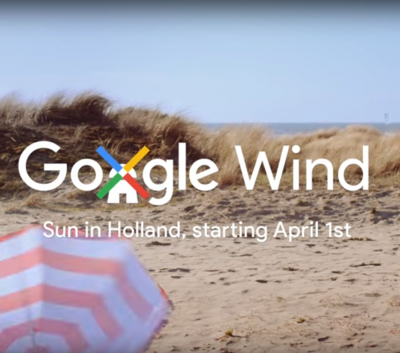 Introducing Google Wind
Google Wind is an innovative system to create better weather in the Netherlands. Old windmills work together to blow away any rainy clouds! April Fool!
Published on: april 1 2017, 10:23
Prank from: 2017
April fools day of: Google
With this new technique they can prevent bad weather from happening as clouds are blown away!
Clear skies for everyone in Holland! Nice!
More April Fool Pranks
Virgin Airlines Dreambird
Published on: november 27 2017, 3:50
Prank from: 2017
Virgin Airlines published a video that has information of a new plane that is going to be used. The dreambird 1417 with the new flapenergy technology.
Virgin Australia first canine crew
Published on: november 23 2017, 2:28
Prank from: 2017
In this video Virgin Australia introduces their furry flight crew who will make your flight way more relaxed.
The Humanless Host
Published on: april 11 2017, 12:20
Prank from: 2017
In 2017 Airbnb introduced The Humanless Host. Everything is getting more and more automised and equipment should be smart.