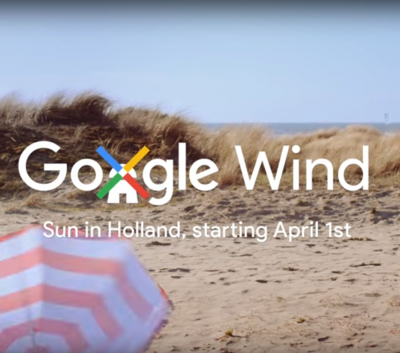 Introducing Google Wind
Google Wind is an innovative system to create better weather in the Netherlands. Old windmills work together to blow away any rainy clouds! April Fool!
Published on: april 1 2017, 10:23
Prank from: 2017
April fools day of: Google
With this new technique they can prevent bad weather from happening as clouds are blown away!
Clear skies for everyone in Holland! Nice!
More April Fool Pranks
Google Play for Pets
Published on: november 27 2017, 3:31
Prank from: 2017
Google Play is a system on your mobile device to download and play small games to entertain yourself. Google made the joke that its not available for pets!
Honda Emoji plates
Published on: maart 29 2017, 11:29
Prank from: 2016
Honda spread an original hoax in 2016 introducing emoji registration plates for car buyers in the UK. Unfortunately for all emoji lovers it was an April Fools joke.
New Smaland
Published on: april 1 2017, 5:00
Prank from: 2017
Ikea Singapore hilariously announced that it would transform its Småland in-store playground into a "press-play-ground," full of sitting pods with tablets, because kids "prefer tablets to physical activity."