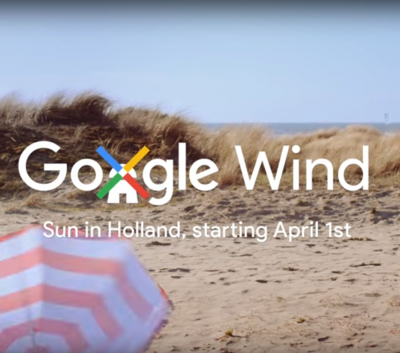 Introducing Google Wind
Google Wind is an innovative system to create better weather in the Netherlands. Old windmills work together to blow away any rainy clouds! April Fool!
Published on: april 1 2017, 10:23
Prank from: 2017
April fools day of: Google
With this new technique they can prevent bad weather from happening as clouds are blown away!
Clear skies for everyone in Holland! Nice!
More April Fool Pranks
Fingerlicking future
Published on: april 1 2017, 4:10
Prank from: 2017
In Canada, the chain has released the KFC Bucket, a voice-activated delivery system and smart dining assistant. The finger-lickin' future is here.
Vaginal beer
Published on: oktober 10 2017, 10:56
Prank from: 2016
Imagine the woman of your dreams, your object of desire. Now free your fantasies and imagine that with a magic wand you can close it in one bottle of beer.
Eau de Chlorine
Published on: april 1 2017, 3:08
Prank from: 2017
Eau de Chlorine is a lovely perfume: "Swim in our scent". It is the 2017 April fools day prank of Swim Today.org.