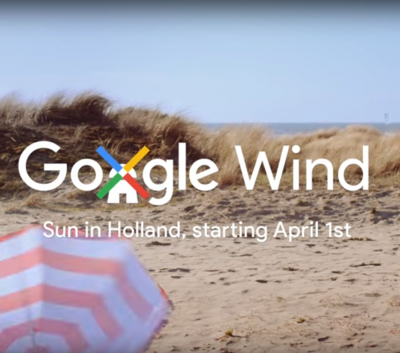 Introducing Google Wind
Google Wind is an innovative system to create better weather in the Netherlands. Old windmills work together to blow away any rainy clouds! April Fool!
Published on: april 1 2017, 10:23
Prank from: 2017
April fools day of: Google
With this new technique they can prevent bad weather from happening as clouds are blown away!
Clear skies for everyone in Holland! Nice!
More April Fool Pranks
Eau de Chlorine
Published on: april 1 2017, 3:08
Prank from: 2017
Eau de Chlorine is a lovely perfume: "Swim in our scent". It is the 2017 April fools day prank of Swim Today.org.
Spaghetti Trees
Published on: maart 28 2017, 3:11
Prank from: 1957
Swiss people had very special trees back in the day. In 1957 the BBC pranked an entire nation by showing the Swiss harvesting spaghetti from trees! April Fool!
Virgin Airlines Dreambird
Published on: november 27 2017, 3:50
Prank from: 2017
Virgin Airlines published a video that has information of a new plane that is going to be used. The dreambird 1417 with the new flapenergy technology.