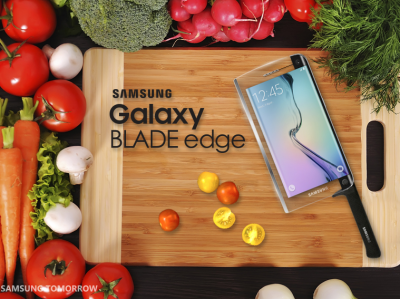 Samsung Galaxy Blade Edge
Samsung introduced the Galaxy Blade Edge in 2015. It had all the features a Galaxy S6 phone had, but it was also a chef's knife! April Fools' hoax Samsung.
Published on: maart 29 2017, 10:43
Prank from: 2015
April fools day of: Samsung
Of course this was an April Fools' hoax by Samsung. It does seem quite handy though! :) Check out the features of this revolutionary phone!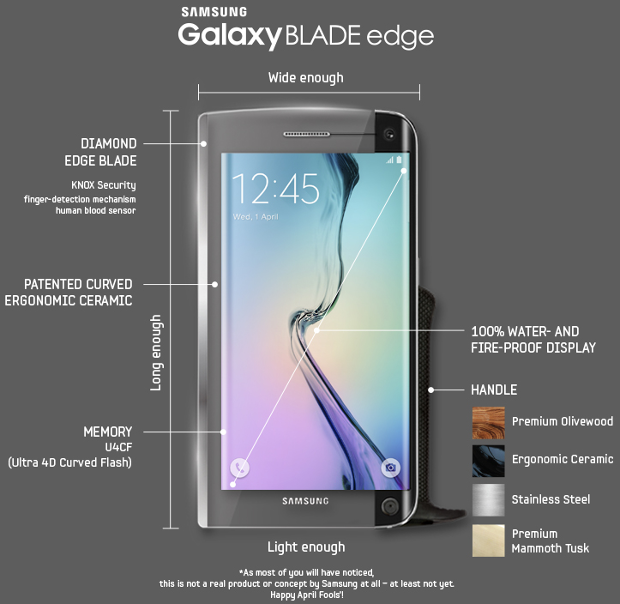 More April Fool Pranks
Eau de Chlorine
Published on: april 1 2017, 3:08
Prank from: 2017
Eau de Chlorine is a lovely perfume: "Swim in our scent". It is the 2017 April fools day prank of Swim Today.org.
Honda's Selfie Car
Published on: maart 29 2017, 11:09
Prank from: 2015
In 2015 Honda announed a 10 camera equipped car called HR-V SLF. As many people take selfies they thought it would be a good idea. It turned out to be a hoax.
New Smaland
Published on: april 1 2017, 5:00
Prank from: 2017
Ikea Singapore hilariously announced that it would transform its Småland in-store playground into a "press-play-ground," full of sitting pods with tablets, because kids "prefer tablets to physical activity."