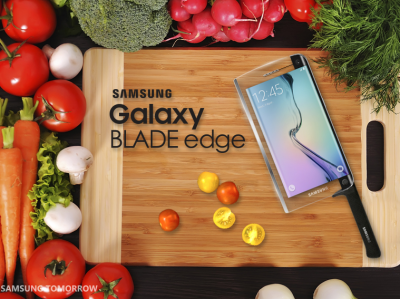 Samsung Galaxy Blade Edge
Samsung introduced the Galaxy Blade Edge in 2015. It had all the features a Galaxy S6 phone had, but it was also a chef's knife! April Fools' hoax Samsung.
Published on: maart 29 2017, 10:43
Prank from: 2015
April fools day of: Samsung
Of course this was an April Fools' hoax by Samsung. It does seem quite handy though! :) Check out the features of this revolutionary phone!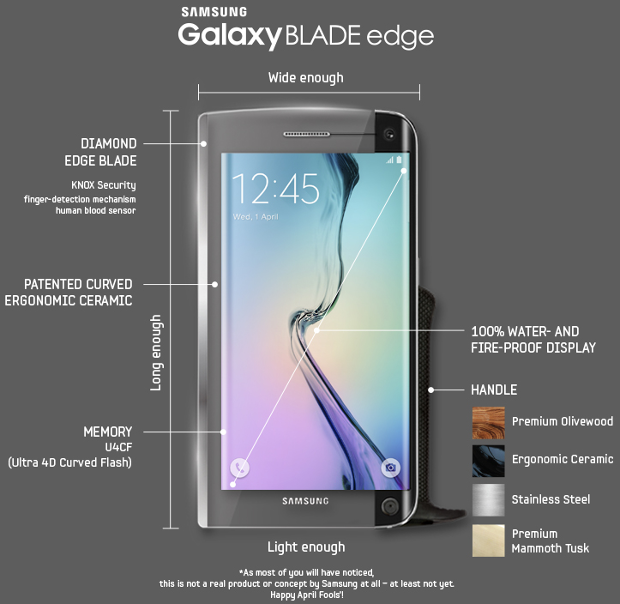 More April Fool Pranks
The Carlsburger
Published on: maart 29 2017, 5:38
Prank from: 2016
Carlsberg stated it fed some cattle hops and two pints of Carlsberg beer a day. Supposedly the meat was very nice after this and they created the Carlsburger.
Introducing Bigland
Published on: oktober 12 2017, 11:46
Prank from: 2017
In 2017 IKEA introduced Bïgland, the Smaland for adults. There you can drink beer, have a massage and settle a dispute! Happy April Fools' Day from IKEA.
In Secure Box
Published on: april 1 2017, 10:13
Prank from: 2017
Zappos has created a delivery box that can't be stolen. When it't delivered it becomes invisible. Very handy technology, what it's an obvious prank!