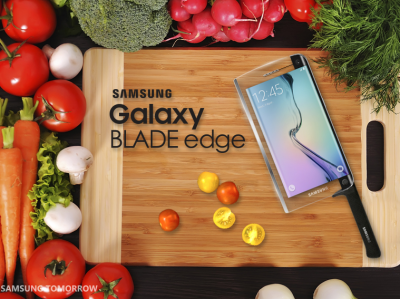 Samsung Galaxy Blade Edge
Samsung introduced the Galaxy Blade Edge in 2015. It had all the features a Galaxy S6 phone had, but it was also a chef's knife! April Fools' hoax Samsung.
Published on: maart 29 2017, 10:43
Prank from: 2015
April fools day of: Samsung
Of course this was an April Fools' hoax by Samsung. It does seem quite handy though! :) Check out the features of this revolutionary phone!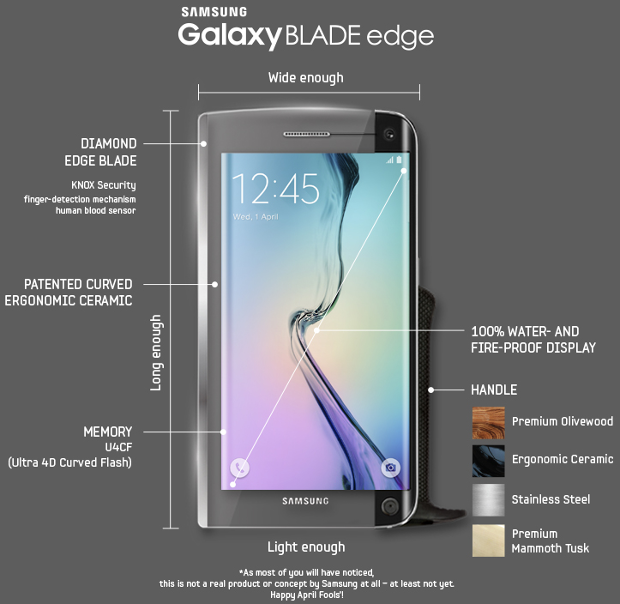 More April Fool Pranks
Introducing Google Wind
Published on: april 1 2017, 10:29
Prank from: 2017
Google Wind is an innovative system to create better weather in the Netherlands. Old windmills work together to blow away any rainy clouds! April Fool!
Vaginal beer
Published on: oktober 10 2017, 10:56
Prank from: 2016
Imagine the woman of your dreams, your object of desire. Now free your fantasies and imagine that with a magic wand you can close it in one bottle of beer.
Edible Nail Polish
Published on: maart 30 2017, 11:27
Prank from: 2017
In 2017 Groupon has launched a special product. The world's first edible prosecco flavoured nail polish. Now you can enjoy prosecco every moment of the day!