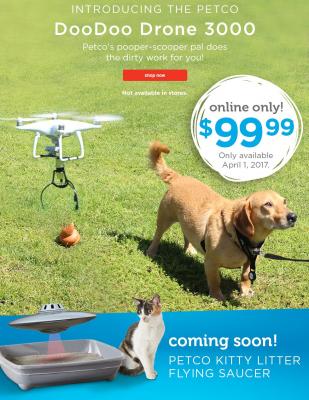 The Petco DooDoo Drone
More April Fool Pranks
Joe Jonas Pranks Hailee Steinfeld on the Radio
Published on: maart 28 2017, 2:39
Prank from: 2016
Joe Jonas, 26, pranked the 19-year-old Pitch Perfect 2 actress and pop singer during her interview with Australian radio show Smallzy's Surgery on Nova 96.9 FM Tuesday, three days before April Fools' Day.
Will Trump announce it was all a joke?
Published on: maart 28 2017, 2:39
Prank from: 2016
Today might be the day that Donald Trump will announce it was all just a buildup to April Fools' Day! Wouldn't that be the one of the best ever?
Google Calendar adds 'Feeling Lucky button'
Published on: maart 28 2017, 2:51
Prank from: 2008
In 2008 one of Google's April Fools pranks was a new feature in Google Calendar. They added the 'I'm Feeling Lucky' button, which wasn't a real feature!