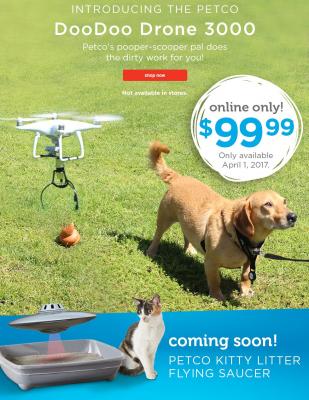 The Petco DooDoo Drone
More April Fool Pranks
Google Play for Pets
Published on: november 27 2017, 3:31
Prank from: 2017
Google Play is a system on your mobile device to download and play small games to entertain yourself. Google made the joke that its not available for pets!
In Secure Box
Published on: april 1 2017, 10:13
Prank from: 2017
Zappos has created a delivery box that can't be stolen. When it't delivered it becomes invisible. Very handy technology, what it's an obvious prank!
Vaginal beer
Published on: oktober 10 2017, 10:56
Prank from: 2016
Imagine the woman of your dreams, your object of desire. Now free your fantasies and imagine that with a magic wand you can close it in one bottle of beer.