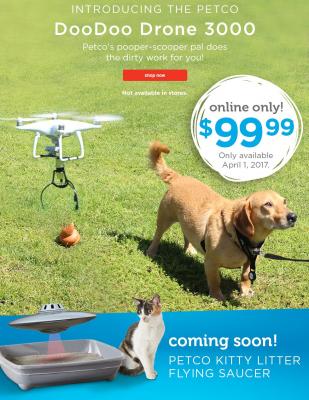 The Petco DooDoo Drone
More April Fool Pranks
New Smaland
Published on: april 1 2017, 5:00
Prank from: 2017
Ikea Singapore hilariously announced that it would transform its Småland in-store playground into a "press-play-ground," full of sitting pods with tablets, because kids "prefer tablets to physical activity."
Auntie Anne's new Logo
Published on: april 1 2017, 12:41
Prank from: 2017
Auntie anne's has designed a new logo. It is lit. They have replaced the halo over the pretzel with a flower crown.
Google Calendar adds 'Feeling Lucky button'
Published on: maart 28 2017, 2:51
Prank from: 2008
In 2008 one of Google's April Fools pranks was a new feature in Google Calendar. They added the 'I'm Feeling Lucky' button, which wasn't a real feature!