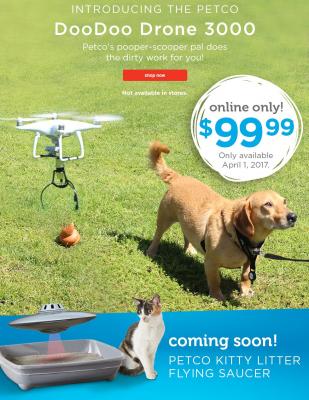 The Petco DooDoo Drone
More April Fool Pranks
Virgin Airlines Dreambird
Published on: november 27 2017, 3:50
Prank from: 2017
Virgin Airlines published a video that has information of a new plane that is going to be used. The dreambird 1417 with the new flapenergy technology.
Joe Jonas Pranks Hailee Steinfeld on the Radio
Published on: maart 28 2017, 2:39
Prank from: 2016
Joe Jonas, 26, pranked the 19-year-old Pitch Perfect 2 actress and pop singer during her interview with Australian radio show Smallzy's Surgery on Nova 96.9 FM Tuesday, three days before April Fools' Day.
Honda's Selfie Car
Published on: maart 29 2017, 11:09
Prank from: 2015
In 2015 Honda announed a 10 camera equipped car called HR-V SLF. As many people take selfies they thought it would be a good idea. It turned out to be a hoax.