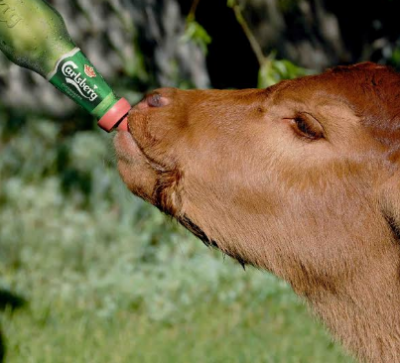 The Carlsburger
Carlsberg stated it fed some cattle hops and two pints of Carlsberg beer a day. Supposedly the meat was very nice after this and they created the Carlsburger.
Published on: maart 29 2017, 5:16
Prank from: 2016
April fools day of: Carslberg
It actually sounds good! I would like a Carlsburger right now.
The idea appears to be stolen from Japanese Wagyu beef, because it is told that each cow receives a "bespoke, bi-monthly Nordic massage to ensure their meat remains tender. All this attention for the Carlsberg cattle results in a melt-in-the-mouth experience for food connisseurs.
More April Fool Pranks
U by Kotex bandages
Published on: maart 31 2017, 4:21
Prank from: 2017
The U by Kotex pads are not only for periods anymore. The now also come as bandages, with handy leak-catching winbgs! April Fool!
Eau de Chlorine
Published on: april 1 2017, 3:08
Prank from: 2017
Eau de Chlorine is a lovely perfume: "Swim in our scent". It is the 2017 April fools day prank of Swim Today.org.
New Smaland
Published on: april 1 2017, 5:00
Prank from: 2017
Ikea Singapore hilariously announced that it would transform its Småland in-store playground into a "press-play-ground," full of sitting pods with tablets, because kids "prefer tablets to physical activity."