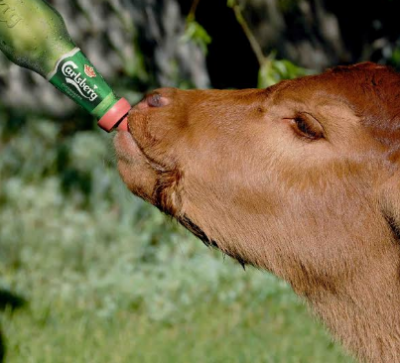 The Carlsburger
Carlsberg stated it fed some cattle hops and two pints of Carlsberg beer a day. Supposedly the meat was very nice after this and they created the Carlsburger.
Published on: maart 29 2017, 5:16
Prank from: 2016
April fools day of: Carslberg
It actually sounds good! I would like a Carlsburger right now.
The idea appears to be stolen from Japanese Wagyu beef, because it is told that each cow receives a "bespoke, bi-monthly Nordic massage to ensure their meat remains tender. All this attention for the Carlsberg cattle results in a melt-in-the-mouth experience for food connisseurs.
More April Fool Pranks
No April Fooling Please, We're Chinese
Published on: maart 28 2017, 2:39
Prank from: 2016
It was not intended as a joke. But on April Fools' Day, it's hard to be certain. A Chinese news agency stated that 'Fools' Day' is not in line with the country's traditions.
Spaghetti Trees
Published on: maart 28 2017, 3:11
Prank from: 1957
Swiss people had very special trees back in the day. In 1957 the BBC pranked an entire nation by showing the Swiss harvesting spaghetti from trees! April Fool!
Joe Jonas Pranks Hailee Steinfeld on the Radio
Published on: maart 28 2017, 2:39
Prank from: 2016
Joe Jonas, 26, pranked the 19-year-old Pitch Perfect 2 actress and pop singer during her interview with Australian radio show Smallzy's Surgery on Nova 96.9 FM Tuesday, three days before April Fools' Day.