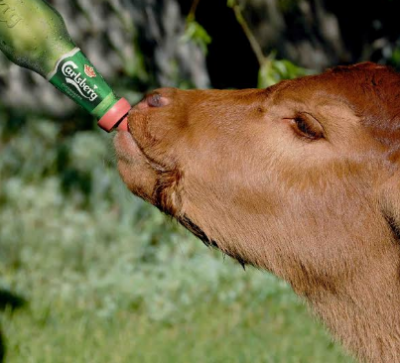 The Carlsburger
Carlsberg stated it fed some cattle hops and two pints of Carlsberg beer a day. Supposedly the meat was very nice after this and they created the Carlsburger.
Published on: maart 29 2017, 5:16
Prank from: 2016
April fools day of: Carslberg
It actually sounds good! I would like a Carlsburger right now.
The idea appears to be stolen from Japanese Wagyu beef, because it is told that each cow receives a "bespoke, bi-monthly Nordic massage to ensure their meat remains tender. All this attention for the Carlsberg cattle results in a melt-in-the-mouth experience for food connisseurs.
More April Fool Pranks
Auntie Anne's new Logo
Published on: april 1 2017, 12:41
Prank from: 2017
Auntie anne's has designed a new logo. It is lit. They have replaced the halo over the pretzel with a flower crown.
Left-Handed Wopper
Published on: maart 31 2017, 12:21
Prank from: 1998
One of the most epic hoaxes on April Fools' Day was the introduction of the left-handed wopper. Burger King introduced it to satisfy left-handed eaters! April Fool!
Honda's Selfie Car
Published on: maart 29 2017, 11:09
Prank from: 2015
In 2015 Honda announed a 10 camera equipped car called HR-V SLF. As many people take selfies they thought it would be a good idea. It turned out to be a hoax.