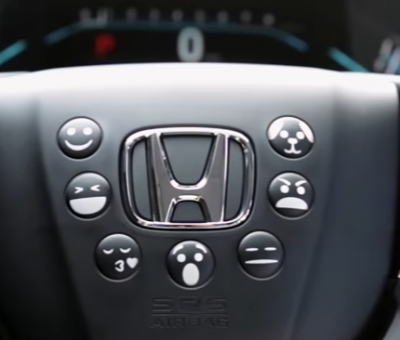 Horn Emojis
I​ntroducing Horn Emojis, the latest innovation from Honda Dream Laboratories. This was a april fools' day prank by Honda in 2017
Published on: april 1 2017, 4:38
Prank from: 2017
April fools day of: Honda
​Horn Emojis offer a range of horn sounds for a variety of scenarios, from seeing your kids off to school to commiserating with other drivers in rush-hour traffic. Check out the all-new 2018 Honda Odyssey for even more impressive innovations.
More April Fool Pranks
Fingerlicking future
Published on: april 1 2017, 4:10
Prank from: 2017
In Canada, the chain has released the KFC Bucket, a voice-activated delivery system and smart dining assistant. The finger-lickin' future is here.
Honda Emoji plates
Published on: maart 29 2017, 11:29
Prank from: 2016
Honda spread an original hoax in 2016 introducing emoji registration plates for car buyers in the UK. Unfortunately for all emoji lovers it was an April Fools joke.