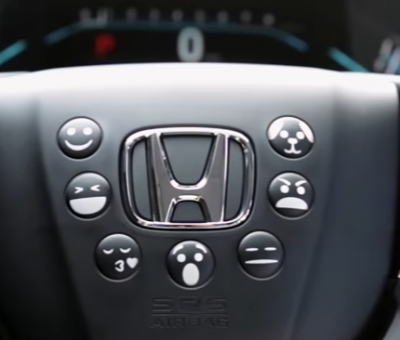 Horn Emojis
I​ntroducing Horn Emojis, the latest innovation from Honda Dream Laboratories. This was a april fools' day prank by Honda in 2017
Published on: april 1 2017, 4:38
Prank from: 2017
April fools day of: Honda
​Horn Emojis offer a range of horn sounds for a variety of scenarios, from seeing your kids off to school to commiserating with other drivers in rush-hour traffic. Check out the all-new 2018 Honda Odyssey for even more impressive innovations.
More April Fool Pranks
Jessica Lowndes and Jon Lovitz in love
Published on: maart 28 2017, 2:39
Prank from: 2016
Jessica Lowndes and Jon Lovitz pulled off a spectacular April Fools' Day prank. Jessica announced her engagement to 58-year-old comedian.
The sexy Cheetos Spray tan
Published on: april 1 2017, 5:38
Prank from: 2017
Cheetos has a new delicious spray tan for the people who want to be orange and yummy at the same time!
Chicago Cubs have a made up game
Published on: november 27 2017, 4:47
Prank from: 2017
The Chicago Cubs did a update-thread on their twitter account to give the illusion that they played a baseballmatch while the season started the next week.