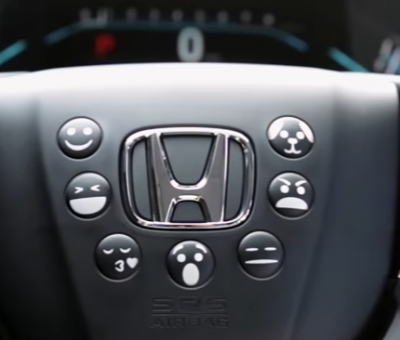 Horn Emojis
I​ntroducing Horn Emojis, the latest innovation from Honda Dream Laboratories. This was a april fools' day prank by Honda in 2017
Published on: april 1 2017, 4:38
Prank from: 2017
April fools day of: Honda
​Horn Emojis offer a range of horn sounds for a variety of scenarios, from seeing your kids off to school to commiserating with other drivers in rush-hour traffic. Check out the all-new 2018 Honda Odyssey for even more impressive innovations.
More April Fool Pranks
Spaghetti Trees
Published on: maart 28 2017, 3:11
Prank from: 1957
Swiss people had very special trees back in the day. In 1957 the BBC pranked an entire nation by showing the Swiss harvesting spaghetti from trees! April Fool!
The epic beard sauce
Published on: april 1 2017, 2:05
Prank from: 2017
Ever heard of a beard sauce? We neither but Buffalo Wild Wings has designed sauce that stimulates beard groth. Their Sauce master explains it!
Fingerlicking future
Published on: april 1 2017, 4:10
Prank from: 2017
In Canada, the chain has released the KFC Bucket, a voice-activated delivery system and smart dining assistant. The finger-lickin' future is here.