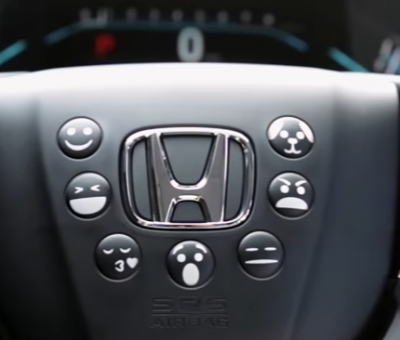 Horn Emojis
I​ntroducing Horn Emojis, the latest innovation from Honda Dream Laboratories. This was a april fools' day prank by Honda in 2017
Published on: april 1 2017, 4:38
Prank from: 2017
April fools day of: Honda
​Horn Emojis offer a range of horn sounds for a variety of scenarios, from seeing your kids off to school to commiserating with other drivers in rush-hour traffic. Check out the all-new 2018 Honda Odyssey for even more impressive innovations.
More April Fool Pranks
Edible Nail Polish
Published on: maart 30 2017, 11:27
Prank from: 2017
In 2017 Groupon has launched a special product. The world's first edible prosecco flavoured nail polish. Now you can enjoy prosecco every moment of the day!
Google Play for Pets
Published on: november 27 2017, 3:31
Prank from: 2017
Google Play is a system on your mobile device to download and play small games to entertain yourself. Google made the joke that its not available for pets!
Joe Jonas Pranks Hailee Steinfeld on the Radio
Published on: maart 28 2017, 2:39
Prank from: 2016
Joe Jonas, 26, pranked the 19-year-old Pitch Perfect 2 actress and pop singer during her interview with Australian radio show Smallzy's Surgery on Nova 96.9 FM Tuesday, three days before April Fools' Day.