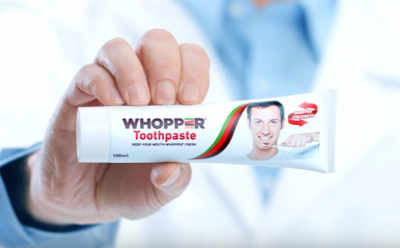 Wopper Toothpaste
Burger King April Fools' Prank in 2017. Because some people want to keep the taste of the Wopper in their mouth, Burger King created the Wopper toothpaste.
Published on: maart 30 2017, 10:13
Prank from: 2017
April fools day of: Burger King
The ultimate way to keep your mouth 'Wopper-fresh'! I think I'm going to pass on this one! April Fool!
Would you like to prank someone yourselve? In that case you only need regular toothpaste.
More April Fool Pranks
The epic beard sauce
Published on: februari 27 2019, 4:47
Prank from: 2017
Ever heard of a beard sauce? We neither but Buffalo Wild Wings has designed sauce that stimulates beard growth. Their Sauce master explains it!
Virgin Australia first canine crew
Published on: november 23 2017, 2:28
Prank from: 2017
In this video Virgin Australia introduces their furry flight crew who will make your flight way more relaxed.
Alamo Rent a self-vacationing car
Published on: april 11 2017, 12:10
Prank from: 2017
Alamo has created a new self-driving car. But it has something special that you would want. The car can plan vacations for you. Coming soon!