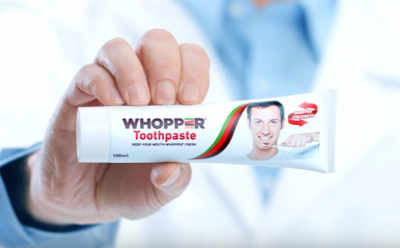 Wopper Toothpaste
Burger King April Fools' Prank in 2017. Because some people want to keep the taste of the Wopper in their mouth, Burger King created the Wopper toothpaste.
Published on: maart 30 2017, 10:13
Prank from: 2017
April fools day of: Burger King
The ultimate way to keep your mouth 'Wopper-fresh'! I think I'm going to pass on this one! April Fool!
Would you like to prank someone yourselve? In that case you only need regular toothpaste.
More April Fool Pranks
Joe Jonas Pranks Hailee Steinfeld on the Radio
Published on: maart 28 2017, 2:39
Prank from: 2016
Joe Jonas, 26, pranked the 19-year-old Pitch Perfect 2 actress and pop singer during her interview with Australian radio show Smallzy's Surgery on Nova 96.9 FM Tuesday, three days before April Fools' Day.
Triple Decker Airplane
Published on: april 1 2017, 11:29
Prank from: 2017
Emirates unveils plans for world's largest commercial aircraft. The triple-decker APR001 includes a swimming pool, games room, gym & park.