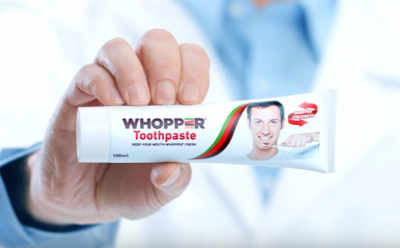 Wopper Toothpaste
Burger King April Fools' Prank in 2017. Because some people want to keep the taste of the Wopper in their mouth, Burger King created the Wopper toothpaste.
Published on: maart 30 2017, 10:13
Prank from: 2017
April fools day of: Burger King
The ultimate way to keep your mouth 'Wopper-fresh'! I think I'm going to pass on this one! April Fool!
Would you like to prank someone yourselve? In that case you only need regular toothpaste.
More April Fool Pranks
No more naked animals
Published on: maart 28 2017, 2:39
Prank from: 2016
Nationals Geographic announced that they won't publish naked animals anymore. From now on animals need to be fully clothed in photographs.
The sexy Cheetos Spray tan
Published on: april 1 2017, 5:38
Prank from: 2017
Cheetos has a new delicious spray tan for the people who want to be orange and yummy at the same time!
Will Trump announce it was all a joke?
Published on: maart 28 2017, 2:39
Prank from: 2016
Today might be the day that Donald Trump will announce it was all just a buildup to April Fools' Day! Wouldn't that be the one of the best ever?