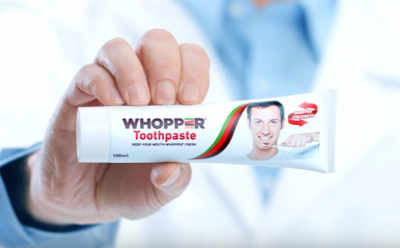 Wopper Toothpaste
Burger King April Fools' Prank in 2017. Because some people want to keep the taste of the Wopper in their mouth, Burger King created the Wopper toothpaste.
Published on: maart 30 2017, 10:13
Prank from: 2017
April fools day of: Burger King
The ultimate way to keep your mouth 'Wopper-fresh'! I think I'm going to pass on this one! April Fool!
Would you like to prank someone yourselve? In that case you only need regular toothpaste.
More April Fool Pranks
Chicago Cubs have a made up game
Published on: november 27 2017, 4:47
Prank from: 2017
The Chicago Cubs did a update-thread on their twitter account to give the illusion that they played a baseballmatch while the season started the next week.
H&M Mark Zuckerberg Clothing Line
Published on: april 1 2020, 3:25
Prank from: 2016
H&M seemed to have a new brand ambassador. With the Mark Zuckerberg clothing line you can stay focused on your career.
Female cave
Published on: april 1 2017, 3:07
Prank from: 2017
Life Storage is offering a storage for women who wants a break from their family. It's called SheShed and only for $99 a month!