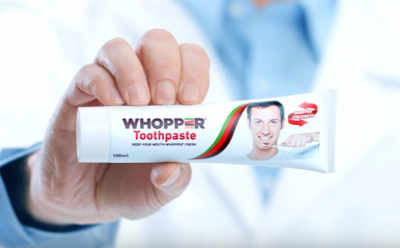 Wopper Toothpaste
Burger King April Fools' Prank in 2017. Because some people want to keep the taste of the Wopper in their mouth, Burger King created the Wopper toothpaste.
Published on: maart 30 2017, 10:13
Prank from: 2017
April fools day of: Burger King
The ultimate way to keep your mouth 'Wopper-fresh'! I think I'm going to pass on this one! April Fool!
Would you like to prank someone yourselve? In that case you only need regular toothpaste.
More April Fool Pranks
The Petco DooDoo Drone
Published on: april 1 2017, 4:20
Prank from: 2017
Petco invented the majestic DooDoo Drone. The drone scoops your poop for you!
Introducing Bigland
Published on: oktober 12 2017, 11:46
Prank from: 2017
In 2017 IKEA introduced Bïgland, the Smaland for adults. There you can drink beer, have a massage and settle a dispute! Happy April Fools' Day from IKEA.
Virgin Airlines Dreambird
Published on: november 27 2017, 3:50
Prank from: 2017
Virgin Airlines published a video that has information of a new plane that is going to be used. The dreambird 1417 with the new flapenergy technology.