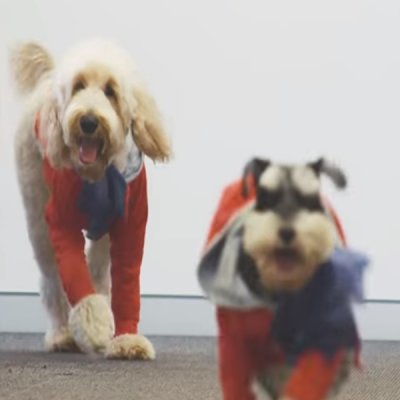 Virgin Australia first canine crew
In this video Virgin Australia introduces their furry flight crew who will make your flight way more relaxed.
Published on: november 13 2017, 4:29
Prank from: 2017
April fools day of: Virgin Airlines
Virgin airlines has a tradition of making April Fools jokes and publish them on their social media.
But this one we don't want to be a joke! Instead of crying babies and screaming toddlers you now have friendly furry crewmembers to assist you during your flight.
Would you dare to fly with this crew onboard?!
More April Fool Pranks
The epic beard sauce
Published on: februari 27 2019, 4:47
Prank from: 2017
Ever heard of a beard sauce? We neither but Buffalo Wild Wings has designed sauce that stimulates beard growth. Their Sauce master explains it!
Self-Driving Bicycle
Published on: maart 31 2017, 11:36
Prank from: 2016
In 2016 Google introduced the self-driving bicycle in The Netherlands. Very convenient to transport your kids from and to the school! April Fool!
Vaginal beer
Published on: oktober 10 2017, 10:56
Prank from: 2016
Imagine the woman of your dreams, your object of desire. Now free your fantasies and imagine that with a magic wand you can close it in one bottle of beer.