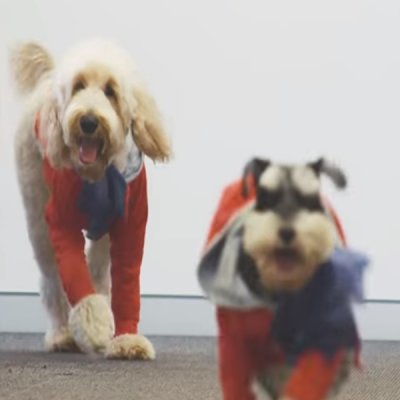 Virgin Australia first canine crew
In this video Virgin Australia introduces their furry flight crew who will make your flight way more relaxed.
Published on: november 13 2017, 4:29
Prank from: 2017
April fools day of: Virgin Airlines
Virgin airlines has a tradition of making April Fools jokes and publish them on their social media.
But this one we don't want to be a joke! Instead of crying babies and screaming toddlers you now have friendly furry crewmembers to assist you during your flight.
Would you dare to fly with this crew onboard?!
More April Fool Pranks
No more naked animals
Published on: maart 28 2017, 2:39
Prank from: 2016
Nationals Geographic announced that they won't publish naked animals anymore. From now on animals need to be fully clothed in photographs.
Fingerlicking future
Published on: april 1 2017, 4:10
Prank from: 2017
In Canada, the chain has released the KFC Bucket, a voice-activated delivery system and smart dining assistant. The finger-lickin' future is here.
BMW Dog basket
Published on: december 5 2017, 3:23
Prank from: 2017
The thrill of the drive isn't just for drivers. Introducing BMW dDrive. The exhilaration of the open road in a dog-friendly, cozy and safe environment.