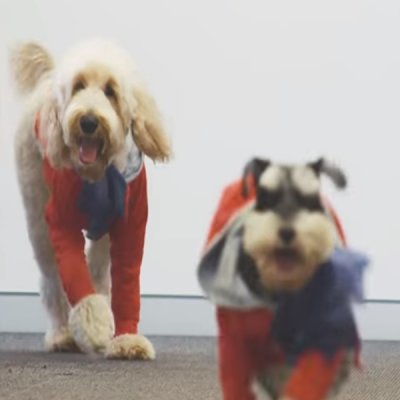 Virgin Australia first canine crew
In this video Virgin Australia introduces their furry flight crew who will make your flight way more relaxed.
Published on: november 13 2017, 4:29
Prank from: 2017
April fools day of: Virgin Airlines
Virgin airlines has a tradition of making April Fools jokes and publish them on their social media.
But this one we don't want to be a joke! Instead of crying babies and screaming toddlers you now have friendly furry crewmembers to assist you during your flight.
Would you dare to fly with this crew onboard?!
More April Fool Pranks
Joe Jonas Pranks Hailee Steinfeld on the Radio
Published on: maart 28 2017, 2:39
Prank from: 2016
Joe Jonas, 26, pranked the 19-year-old Pitch Perfect 2 actress and pop singer during her interview with Australian radio show Smallzy's Surgery on Nova 96.9 FM Tuesday, three days before April Fools' Day.
Spaghetti Trees
Published on: maart 28 2017, 3:11
Prank from: 1957
Swiss people had very special trees back in the day. In 1957 the BBC pranked an entire nation by showing the Swiss harvesting spaghetti from trees! April Fool!
Wopper Toothpaste
Published on: maart 30 2017, 2:51
Prank from: 2017
Burger King April Fools' Prank in 2017. Because some people want to keep the taste of the Wopper in their mouth, Burger King created the Wopper toothpaste.